New additions to our Library: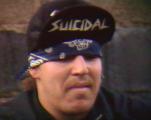 THIS WEEK IN HISTORY
February 27, 1991 - In Desert Storm, the 100-hour ground war ended as Allied troops entered Kuwait just four days after launching their offensive against Saddam Hussein's Iraqi forces.
Historic Films presents over 400 Hours of military and combat footage, this collection includes interviews with soldiers, generals and political figures active during Operation Desert Storm.The collection also includes an array of military training films.
View more...