New additions to our Library: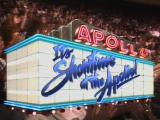 IT'S SHOWTIME AT THE APOLLO
IT'S SHOWTIME AT THE APOLLO 1997 - 2006

From its opening in the 1920's, the Apollo Theater has been Harlem's premier show place and an iconic venue for African American performers. From 1987-2006, the syndicated musical variety program IT'S SHOWTIME AT THE APOLLO was filmed on the stage of that legendary theater. Each weekly episode presented live performances by some of the most popular black musicians, singers and comedians of the day including DONNA SUMMER, BEASTIE BOYS, LIL' KIM, DESTINY'S CHILD, PUFF DADDY, FAITH EVANS, BIGGIE SMALLS, MARY J. BLIGE, MC HAMMER and NATALIE COLE. Also showcased are early glimpses of up and coming talent such as LAUREN HILL (appearing at the age 13 and is booed by the notoriously tough Apollo audience) who competed in the show's weekly "Amateur Contest", one of the Apollo's most infamous and long running traditions. The show documents early rap and hip hop performers while the music was still very new and just hitting the mainstream.
Each of the 360 episodes offers electrifying live performances as well as fabulous footage of the theater and it's enthusiastic audiences. All of the programs have been restored, digitized and logged for research on the Historic Films website. It has been said that if you were a success at the Apollo, you had made it to the top!
View comp reel Browse footage…
View more...